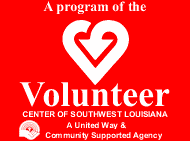 Community Calendar
310info.org is always in touch with what is happening in our community...Southwest Louisiana. Below are some of the events that are coming up.
---
Page 2 of 4
8/22/2006
Immunizations offered at clinic
The McNeese State University College of Nursing Immunization Clinic will be open this summer rom 3:30pm-5:30pm every Tuesday in Hardtner Hall. The clinic is open June 6, June 10, July 18, Aug. 1, Aug. 8, Aug. 15, and Aug. 22. The clinic immunizes children up to 18 years of age free of charge. Updated immunization records are requested. Call 475-5536 adn leave a message.
8/26/2006
Imagination Celebration Honorees
The Children's Museum has selected the 2006 artists to be honored at Imagination Celebration, which be held August 26, 2006 at The Brick House. This year there are two honorees, husband and wife, Patrick and Celia Soper. They worked together, she as writer, he as illustrator, on "Cajun Folktales". This children's book was written in order to preserve a number of stories handed down over the years and are an integral part of the Cajun heritage. Imagination Celebration is the only fundraiser held to benefit the Children's Museum. The fourth annual festivities will include twenty area restaurants, adult beverages, music, a silent auction, a live auction and the opportunity to meet Patrick and Celia Soper. For more information, call the museum at 433-9420.
8/31/2006
Grief Therapy offered for young people
Source: Lake Charles American Press The Grief and Trauma Resolution Center, 4129 Common Street, will offer group therapy this summer for children and teenagers who have experienced a death or illness of a friend or family member. The center also has groups for children or teenagers who are chronically or terminally ill. Groups meet on a weekly basis. For more information, call the center at 477-0079.
11/6/2006
American Heart Association's Heart Walk
November 11, 2006 Registration begins at 8 a.m. For more information, contact the American Heart Association at 439-4050.
12/13/2006
Job Fairs set for next 6 months
The Jeff Davis Workforce Center will hold job fairs for workers and employers from 9am-noon on the following dates: July 12, Aug. 9, Sept. 13, Oct. 11, Nov. 8, Dec. 13. The events will be held at Louisiana Technical College, Morgan Smith Campus, located at 1230 North Main Street. To register a business, reserve a space, or for more information, please call the Workforce Center at 337-824-2797.
Previous Page
Next Page
If you have an event you would like added to the community calendar, please send an email to