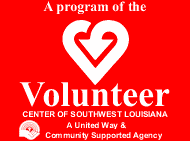 Community Calendar
310info.org is always in touch with what is happening in our community...Southwest Louisiana. Below are some of the events that are coming up.
---
Page 1 of 5
6/17/2006
Leadership Camp to begin Monday
Leadership Camp 2006, a youth program of The Leadership Center for Youth, will start Monday, June 5, in Lake Charles and Sulphur. The camp will be 9am-noon Monday-Friday, June 5-9 at Family and Youth Counseling Agency, 220 Louie Street, and 9am-noon Monday-Friday June 12-16, at 309 N. Huntington Street in Sulphur. For more information, please call Dana Forest or Kristen Graham at 436-9533.
6/19/2006
Healthcare fair set for June 19
First Christian Church will host a morning of free health care services (blood pressure checks, massages, etc), information booths and education classes from 9:30am-noon Tuesday June 19, at its church. The church is trying to provide momenets of wellness and education to the post-Rita community.
6/20/2006
Diabetes fair to be held Tuesday in LC
Southwest Louisiana Center for Health Services, 2000 Opelousas Street, will have a diabetes fair 10am-6pm Tuesday, June 20. Free glucometers, educational information, diabetes screenings and shoe fittings will be available.
6/23/2006
Camp Smiling Faces offers fun for special needs children
West Calcasieu Cameron Hospital will hold the sixth annual Camp Smiling Faces beginning June 19 through 23 from 8:00am until noon each day. The camp is specifically designed for special needs children and will be held at WCCH's Therapeutic Riding Center at 886 Landry Lane in Sulphur. Children ages 5-12 with various disabilities such as autism, cerebral palsy, Down syndrome, visual deficits, speech or hearing impairments, and others are eligible to attend. The campers will participate in a variety of activities, including horseback riding, fishing, arts and crafts. Contact WCCH's Therapeutic Riding Center at 625-3972 for more information.
6/23/2006
Section 8 Housing program June 19-23.
The Calcasieu Parish Housing Department will accept waiting list applications for the Section 8 Housing Choice Voucher Program at 9-10am, Monday-Friday June 19-23. Housing assistance is for the unincorporated areas of Calcasieu. Those interested should apply at the Magnolia Life Building on the 6 floor.
Next Page
If you have an event you would like added to the community calendar, please send an email to