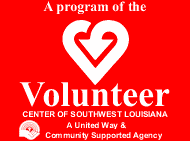 Salvation Army
| | |
| --- | --- |
| Category: | Homeless/Housing |
| | |
| --- | --- |
| Alternate Number: | (337) 433-4155 |
| | |
| --- | --- |
| Contact Name: | Captain David Sams |
Physical Address:
418 Broad Street
Lake Charles, Louisiana 70601

Mailing Address:
Post Office Box 17166
Lake Charles, Louisiana 70616-7166

Handicapped Accessible: Yes
TDDY: No Allen, Beauregard, Cameron, Calcasieu, Jeff Davis The Salvation Army, an international movement, is an evangelical part of the universal Christian Church. Initial admission Free; Readmission $8. None for fire victims, and those needing clothing. One year after having received assistance with rent or utilities. One year after last stay in our homeless shelter. United Way of Southwest Louisiana, private gifts and donations,regular contributors, special fund-raising activities,and sales of donated autos, clothing, furniture, and household goods. Other services:(1)Special Thanksgiving Dinners for the needy;(2)Christmas gifts and food baskets for needy families with children and for needy senior citizens;(3)Summer Camp for needy youth;(4)Missing Person Assistance;(5)Youth and Adult Programs;(6)Assistance to fire victims;(7)Counseling;(8)Counseling;(9)Wedding Vows;(10)Wedding Vows;(11)Funerals;(12)Utility Assistance
and Rental Assistance, in hardship cases.