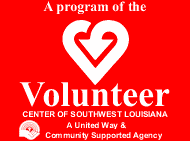 Allen Parish Search Results


Search Results For: L

Page 1
---
LaCHIP
Medical Health
Allen - Oberlin
LaCHIP is a no-cost health insurance program designed to bring quality health care to uninsured children under the age of 19 in Louisiana.
Lake Area Bird Club, Inc.
Animals/Pets
Allen - Lake Charles
Educating members and public about exotic birds from finches to macaws.
Light House Ministries,Inc.
Alcoholism/Drugs
Allen - Reeves
Christian Support Group "Eye of the Storm" ministries to people who are suffering in the area of Alcohol, drugs, abuse & divorce.