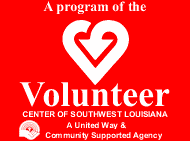 Volunteer to Help Victims of Hurricane Katrina
For the first time in the history of Southwest and South Central Louisiana, our community has a comprehensive centralized vehicle to bring people and resources together - 310info.org.
310info is "the" designated 211 provider for Southwest and South Central Louisiana. If you live within Southwest or South Central Louisiana - Allen, Beauregard, Calcasieu, Cameron, Jeff Davis, Raides, or Vernon parish.
310info.org is a Community Resource Information and Referral System featuring this website (310info.org) and a telephone line (211, 310-info or 310-4636, or toll-free 1-866-310-4636, during business hours, 9 a.m. - 4 p.m.).
Please use the buttons on the left hand side of every page to navigate this site. If you would like more information, please feel free to contact us below.
310info.org
A Program of The Volunteer Center SWLA
1023 Common Street
Lake Charles, LA 70601
Quick Voice: Dial 211 (within Southwest Louisiana: Allen, Beauregard, Calcasieu, Jeff Davis, Cameron parishes)
Local Voice: 337.310.INFO
Toll Free: 1.866.310.4636 (within US)


The Executive Committee and Board Members of The Volunteer Center, The Volunteer Center, Inc., its employees, and its volunteers are not responsible for any content or links or associated web sites or other entities on the 310info.org site, associated with the site, given or accepted in good faith, in service to the community. 310Info and The Volunteer Center, Inc. makes no guarantees, and is not responsible for the actions, content, or anything associated with third parties and links. We reserve the right to refuse service to any user.
310Info makes no specific warranties, representations as to actual inclusions or exclusions, and assumes no liabilities, whatsoever, with regard thereto.